High-end modern Villa in luxury resort, Crveni Vrh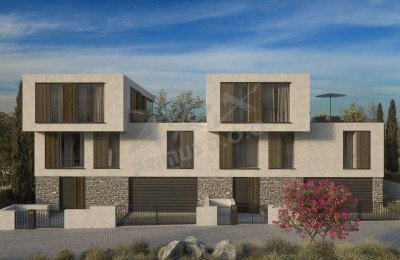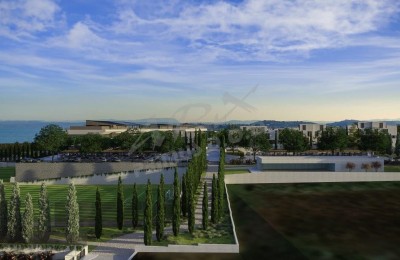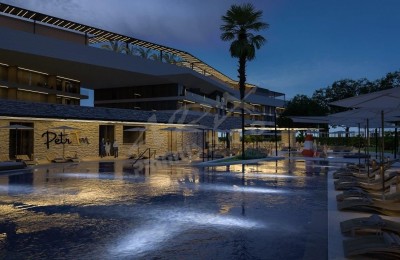 257 m2


Building size

361 m2


Lot size

7000 m


Distance from center

300 m


Distance from sea
Code :

00373

Location :

Umag, Crveni Vrh

Seaview :

Yes

Parking :

Yes

Garage :

Yes

Basement :

Yes

Air conditioning system :

Yes

Elevator :

Yes

Number of bedrooms :

3

Number of bathrooms :

6

Energy efficiency :

A+

Year of construction :

2020
REAL ESTATE DESCRIPTION
In a secluded location surrounded by the sea,The elite settlement  is located close to all urban, rural and tourist facilities of northwestern Istria.
As part of the resort, this high-end luxury modern villa is for sale, whose design is perfectly integrated into the environment and adapted to the Mediterranean way of life in combination with luxury, which is provided by numerous services and facilities of the resort.
The villa consists of 3 bedrooms, 4 bathrooms and 2 toilets, open living room and kitchen with fantastic views, utility room, playroom, storage room, tavern, wine cellar, 2 balconies with open views of the sea, Istria, Slovenia and the Italian Alps, garage , parking space, and garden.
The resort offers a number of facilities and services that ensure a carefree life and rest:
24h surveillanceMaintenance serviceConciergeTransfers (by road or sea) from Venice, Pula, Rijeka and TriesteCaretaker on siteElectric buggy - free transfer to the nearby beachElectric car charging stationRestaurants and Cafes by the pool Gym and Sports facilitiesShopping on siteLuxury restaurant on the roof terrace of the aparthotel (main building)Wellness & SPASwimming pools with facilities for childrenKids playgroundBabysitting service on requestPrivate chef service on requestInfinity pool 105m long on the roof terrace level (second largest in the world!)Indoor part of the pool at the level of the roof terracePrivate beach with barPool at ground level (garden pool)Children's pool at ground level
The resort is located in Alberi, Istria, in the northernmost part of the Croatian Adriatic, on the border with Slovenia and Italy. Distance to airports: Pula 91 km, Trieste 94 km, Venice 202 km, Zagreb 275 km. Distances: 135 km to Ljubljana, 515 km to Vienna, 535 km to Munich, 475 km to Milan, 648 km to Belgrade, 735 km to Zurich. 
WE RECOMMEND